Welcome to the first episode of Travel Freedom's "Traveling With Points" interview series.  We will regularly be featuring travelers who take advantage of points and miles to enjoy adventures all around the world.  You will get a glimpse into the lives of people who are already traveling by using points and miles.  Let's get it started and jump into our first ever interview!
Tell Us a Little Bit About Yourself
My name is Janice Lintz
I am passionate about travel and good food.  I travel for food.
I am divorced and have two grown children, ages 24 and 20.
I live in NYC.
I grew up traveling.
How long have you been traveling with points and miles?
Since American Airlines (AA) introduced points, but I grew up with a mother who always chased the deal. She once booked the Eastern Airlines promotion where we could fly anywhere Eastern Airlines flew for 21 days as long as we went in the same direction. It was an incredible trip to Bermuda, Jamaica, Las Vegas and Mexico. We looked like jet-setters when we were just a typical American family.
How did you first find out about this somewhat secret world?
Someone told me about the AA card when AA introduced it. But I upped my game when I met a couple at a safari lodge in South Africa who told me I could get two free Park Hyatt nights from a sign-up bonus. I had never heard of sign-up bonuses until then. I was obtaining points from regular spend. Learning about the sign-up rewards was a game changer.
What was the first trip you took using miles and points?
We flew to Nepal using points
.
A
lthough, at the time we could only fly to Frankfurt
on AA
and then we had to pay for the flight from Frankfurt to Kathmandu.
What
'
s the best credit card introductory bonus you
'
ve ever received?
Recently, the Ritz Carlton bonus was initially three-nights free at a four-star Ritz-Carlton. The Ritz-Carlton Aruba fell into this category. My status at the time entitled me to free breakfast, and the front desk clerk insisted my stay included a resort credit. The hotel knew it was my birthday, so they upgraded my room and provided me with special treats. A standard room alone would have cost $1,908, but I paid nothing. My fantastic stay was an incredible use of my certificates. Plus, I received the travel credit and the other perks. Sadly, the card no longer exists.
Although, years ago, AA used to give free night certificates with AA awards. For some bizarre reason, we never used them. But once we returned home from France and our home's construction wasn't finished. The contractor didn't get around to installing the staircase. So we had to move to a hotel.
Suddenly, I remembered having a stack of free night certificates. We took the pile and booked a room at the newly opened, first W Hotel, on Lexington Avenue in NYC. The room was so tiny that we had to be upgraded multiple times to fit four people in the room. The manager wasn't happy that we were about to camp out in the hotel for about a month for free. Plus, my children didn't fit the profile of the W's demographic. The manager agreed to let us stay for a week. My daughter still remembers marching down the elevator in her school uniform and wondering why everyone wore black?
What do your friends and family think of your points and miles traveling?
My children and friends think I am insane but yet, they can't believe the trips I take. My daughter has zero interest in obtaining sign-up bonuses, but she is happy to join me on trips.
As good as I am, I think my mother was better than me. She would never leave a point on the table. When my mother died, she was so frustrated that she couldn't use or gift us some points, that she used them to obtain gift cards. She refused to draft a will, but she left a stack of gift cards for my brothers and me.
What is the best trip you

'

ve taken? Tell us a little bit about it.
After my divorce, the judge stuck me with substantial legal bills despite me being the non-monied spouse. I have never carried debt in my life. So, I slashed every expense. I sold my car, cut chords and eliminated shopping to pay-off the six-figure debt. I am never one to waste a crisis and view obstacles as opportunities. One attorney permitted me to pay him using credit cards and didn't charge me interest. So, each payment to him resulted in a sign-up bonus. In about three years, I earned over two-million points in sign-up bonuses alone excluding free nights. The points and sign-up bonuses have enabled me to take incredible trips.
My most recent trip was epic. I traveled for seven weeks in East Africa and the Indian Ocean. All of my international flights were on points. I went to Cote d'Ivoire, Ethiopia for transit, Burundi, Zanzibar, Rwanda, Uganda, South Sudan, Comoros, Mayotte, Madagascar, Zambia, Mozambique, and Malawi. My goal is to visit every country in the world, and this trip added quite a few new destinations.
I transferred Amex points to Aeroplan for Ethiopian Airlines (ET) flights, since Aeroplan allows one stop in addition to an open-jaw. My flights were EWR>ABJ>ADD>BJM and then LLW>EWR (airport codes).
Plus, ET had an overnight in ADD with a free hotel. Although, the hotel was disgusting, so if I ever transit again, I would pay for my room next time. Free is not good when the sheets and carpet are stained.

Planning the trip was complicated until I discovered an outstanding site, AwardEx.io. It's a game changer and simplified the process for me.
For flights, I used Citi Thank You points when flights weren't available on points, or the airline like Rwandair didn't participate in a frequent flier program. Plus, I saved 20% off the airfare while earning points when available. Amex had a terrific 25% transfer bonus to Flying Blue before the program changed this summer. One of the best cards which is not well known is the MERRILL+ Visa Signature. It came with a 50,000 point sign-up bonus. But the real benefit is that the first 25,000 points are
converted to $500 when booking a $500+ flight. The only issue is finding an agent who understands the program. I used the bonus to pay for a pricey plane from TNR>LVI.
US Bank's Radisson card provided two free nights at the Radisson Blu in Kigali, Rwanda. I used points plus spend at the Park Hyatt Zanzibar so that I would still receive points, and get a better rate for my points.
Both properties were outstanding. I also used the Citi fourth night free program for my hotel in Mozambique toward the end of the trip when I knew I would need a little R&R.
For small hotels, I purchased gift Hotels.com gift cards when they were on sale to stack the discounts with coupons or free nights. I saved at least 20% on my stays. Calling or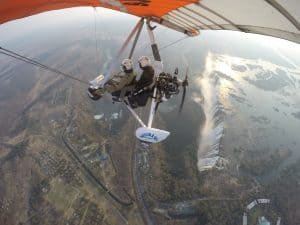 emailing properties directly sometimes saves money but not always. Sometimes, the OTA's have better prices.
Also, thank you
Capital One Venture
card for an experience of a lifetime. Microlighting above Victoria Falls
How often do you travel now, compared to before you knew about traveling with points and miles?
Our family, including my grandmother always traveled extensively including when I was younger. After my siblings and I were grown, my mother was away so frequently; it was hard to remember her schedule. Travel is part of my DNA. The points have enabled me to continue traveling.
I travel when I can leave. Sadly, my divorce while final, continues after eleven years. Even on this trip, I was served yet another motion. It is mind-boggling how a person who has money can use the judicial system to torture another person. Traveling provides me freedom. Hence, I am writing a book, Passport To Freedom.
What are your upcoming travel plans?
My goal is to travel to all 193 UN countries and the Traveler's Century Club's (TCC) 327 destinations. To date, I have visited 116+3 UN countries and 160 TCC destinations.
I am in the process of planning my future trips, but one of my tours is to see the polar bears in Churchill, Canada. Again, the flights are on points.
What is your best tip for people just getting into traveling with points and miles?
The process can seem overwhelming. But, its best to start small. I always recommend a person who can manage credit, pull their three credit reports and go over them with a fine tooth comb. Make sure the information is correct. You don't want a bank to decline you for inaccurate information. My credit report said I worked in a pizza shop and had a lien in Lewiston, NY. Neither was correct.
If there is wrong information, then contact the reporting agency. If they don't correct it quickly, then file a report with the CFPB. It's online and thanks to Senator Warren. The reporting companies resolve the issues rapidly. Then start with the Chase cards while you are under the 5/24 mark. But read a few 101 Points guides for guidance after you get your feet wet.
How can people follow you?
On my website: janicelintz.com and on Instagram @janicelintz
Thank you Janice
Thank you for letting us dig deep into your travel experiences.  Your trip to Africa definitely sounds epic!  Can't wait to find out more about your book in the future…
Would YOU like to share your points & miles journey on Travel Freedom?
We would all love to find out how YOU travel using points and miles!  If you'd like to be considered for a future "Traveling With Points" interview, please EMAIL US.  We're always happy to hear more success stories in the points and miles community.
Photos courtesy of Janice Lintz