I've now traveled to Hawaii seven times, flown across the country five times, gone to college football games in new cities, visited friends in other states, stayed in resorts that normally cost more than my weekly salary per night, flown first class, stayed in hotel suites, and relaxed in countless airport lounges where free drinks and food are always available. Whew, I'm out of breath… All of this and much more, I've done in just the past five years by traveling with points and miles. Yes, FIVE YEARS! That's it. No joke. I want you to count up your past vacations really quick in your head, and see if your travel amounts to this much over your lifetime. Does it? Hold on to that thought…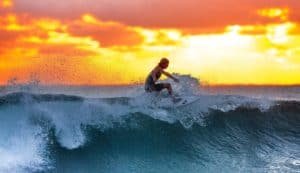 HOW MUCH DID THAT COST?
Looking at all the trips and vacations I've taken, you'd think that I must be wealthy and spent a huge amount of money on my travels. I mean, look at the price of an airline ticket. Currently, the average round trip U.S. flight is over $350! That's crazy! Oh, and Hawaii flights… I don't even want to look at those prices. Well, to tell you the truth, I didn't pay very much at all to travel as much as I did. I've only paid a tiny fraction of the price anyone else would have paid. I've been able to do all that traveling using POINTS and MILES to cover the costs. You may think that you can only earn airline miles and hotel points by flying and staying a ton of nights at hotels, because that's what you've heard. It's NOT TRUE!!! I've earned almost all of mine, NOT by flying or by staying at hotels, but through TRAVEL CREDIT CARD INTRODUCTORY BONUSES.
Ok, now back to YOUR travel count… Was it less than mine over your whole life? Close? Either way, would you like your next five years to look like mine, or even better and more filled with travel and adventure? Would you like to start turning those travel dreams into reality? Hawaii, Thailand, Iceland, Europe, maybe Brazil… Do you have a bucket list that seems to be getting deeper and deeper with nothing being checked off? GOOD NEWS! You can start traveling with points and miles just as easily as I did. You too, can earn thousands upon thousands of miles and points to kick start your life filled with travel.
OK, BUT HOW?
I'm sure you're curious to learn how all this traveling with points and miles business works, and you're probably thinking "what's the catch?". I'll tell you now, the one thing you'll have to trade for this life full of travel, is a bit of time. Time up front to learn, and time to put your knowledge to work earning and spending your points and miles. Trust me though, it's absolutely worth it. If I hadn't learned how to travel this way, I probably wouldn't have taken 90% of those vacations. Unfortunately, like most people, I would not have been able to afford it.
WHO IS TRAVELING WITH POINTS & MILES FOR?
You're in? Where do you sign up? Well, first things first… Travel with points and miles isn't for everyone. There are a few key prerequisites that you'll need before you can get started.
 You will need to have a credit score in the range of 700 or greater. Scores go up to a maximum of 850, so this is a very good score. If you're well below this level, you will first need to work to raise your score. If you don't know what your score is, you can check for free at creditsesame.com. I've found that this site will give you a pretty accurate estimation of your credit score.
You must be someone who pays your credit cards and bills off FULLY and ON-TIME, every month. If you're running a balance, there is no point in earning points and miles because the interest on credit cards far outweighs the value of points.
You aren't looking at taking out a major loan such as home mortgage in the next one to two years.
Do you fit the bill? Great! I want to share my knowledge of traveling with points and miles, so that your life can be full of travel and adventure like mine is. For me, travel has improved my life greatly. So much, that I now can't see my life without it. I hope travel can do the same for you now that you're on your way to becoming an expert points and miles traveler.
HOW DOES TRAVELING WITH POINTS AND MILES WORK?
Now that you know you want to travel like I do, by using points and miles, and you've met the prerequisites mentioned above, let's move on to how this process works… The number one way to earn tons and tons of points and miles is through credit card introductory bonuses. This is where that good credit score comes into play. Banks are willing to give you a tremendous amount of value to add you as a customer. This means that they will regularly give introductory bonuses of 50,000 miles or more and occasionally even stretch those up to 100,000 miles. The best bonus I have earned to date, gave me enough miles to purchases five round trip flights to Hawaii using the method explained in my blog post "How I Fly Round Trip to Hawaii for $11". I'll say that again… FOUR ROUND TRIP FLIGHTS TO HAWAII. That's pretty generous of the banks, I'd say! (Thanks Chase – wink).
OTHER WAYS TO EARN POINTS & MILES
Although, credit card introductory bonuses are the best and quickest way to earn points, they're not the only way. Once you have a credit card that earns points, you can earn through spending. Many cards have category bonuses that earn extra points for certain purchases, so you can earn extra points on things you already buy every day. Some common bonuses are on things like gas, groceries, travel and dining. Another way to earn extra points is through online shopping portals that many airlines and credit cards have available. They will give you extra points to click through their links before purchasing products and services on popular online retailers. One more way to earn points is through promotions that the airlines and hotels have directly. Usually, they are for staying at a particular hotel chain so many stays within a period of time they will give you a bonus, or flying so many flights in a period of time they will also give you a bonus. These are just a few ways to earn enough points and miles to travel very well for the rest of your life.
IMPROVE YOUR LIFE BY TRAVELING WITH POINTS AND MILES
I have travel freedom, and I would like to teach you how to have the same. I spent hundreds if not thousands of hours researching and reading to understand how to travel with points and miles instead of money. My goal is to take what I've learned and make it much simpler and quicker for you. To continue learning about traveling with points and miles, and how to take advantage of this wonderful opportunity, follow along with Travel Freedom.
PS: If you're interested in traveling more often or more luxuriously, check out our FREE 5-DAY MINI COURSE.