In November, The travel company RewardStock was featured on the hit ABC TV show "Shark Tank". Shark Tank is a television show that features entrepreneurs looking to find investors in their company. On the show, RewardStock introduced their company with this pitch.
"RewardStock helps travelers earn, track, and book trips with reward points like frequent flyer miles, credit card rewards and hotel points. Don't have any points? RewardStock creates customized plans to help you get the points you need quickly, saving money on travel and empowering you to experience more."
Here's what RewardStock Says they Do
Algorithm-powered search results
Search best reward deals for many popular destinations
Easy, expert-assisted reward bookings
Strategic earning guidance
Customize parameters for your situation
"RewardStock will save you more money on travel than any other site. That's a fact!"
In the end, shark Mark Cuban (known for owning the Dallas Mavericks) invested $320,000 in exchange for 10% ownership of the RewardStock company. This means that RewardStock is valued at $3.2 million.
A friend of mine mentioned the upcoming episode to me, knowing that I'm deep in the travel points community. As I watched the pitch live, I had a hard time believing that what they were claiming they did was even fully possible. I also wondered how, if they had this service, I had never heard of RewardStock before. I literally follow hundreds of travel blogs on a daily basis in order to keep up with the industry.
Honestly, as I watched the episode live, I was astonished that any of the sharks invested. After RewardStocks CEO, Jon gave his pitch, there was a definite concern about the suggested valuation of $4 million, but two of the sharks were still interested. RewardStock said that their revenue over the past two years had been $50,000. They make their money through referrals to credit cards and membership fees. Kevin O'Leary offered $200,000 for 10% of the company, but Mark Cuban came in to make a deal at $320,000 for 10% ownership.
Knowing the travel points industry, I know how many different factors go into booking a flight with points. It's not a cut and dry formula that could easily be turned into an algorithm, which is what RewardStock claims they've done. After the Shark Tank episode aired, I decided to pay the $29 membership to see if they could really stand by their promises.
Why was I astonished that Mark Cuban Invested?
Being involved in the travel rewards world for the past six years, I understand how complicated award flight booking can be. I also understand that booking reward flights isn't always a cut and dry formula. Sometimes, there are a lot of variables that go into booking a flight that would seem to be hard to automate.
The valuation of RewardStock seemed nothing less than absurd to me. Mark Cuban paid $320,000 for 10% of the company (+1% in advisory shares). That means that they valued the company at approximately $3.2 million!
Really?!? What the… OK (deep breath), time to dig deeper into this service. Let's find out if RewardStock seems like a company that should be worth $3.2 million.
Don't get me wrong… What RewardStock claims that they offer would be AMAZING if they could truly do it. But, as I figured, after signing up for an account to see how in the world they did it, I realized that they are far from what they claim to be. Their $29 service is far from valuable for most people, including me. It straight up doesn't work correctly. In fact, there are free tools and services online that work better than RewardStock does. I'll tell you about those too.
Booking a Flight on RewardStock
The main feature of RewardStock is booking award flights all over the world with their "proprietary algorithm". Let's find out how this algorithm works. We'll analyze whether it's easy to use, and if we can really find the best deals with it.
What RewardStock Flight Booking is Supposed to Do
RewardStock is supposed to allow you to easily book award flights using the least amount of points possible. This is the procedure to search for award flights on RewardStock:
Search your destination at the top of your account. (No date selection – you can only input a requested month)
RewardStock takes a minute or so to find a flight. (It's SLOOOOOOOOWWWWWWW and don't leave that tab or it suspends your search)
RewardStock comes back with a result. (Often the flight dates are terrible. Like a 1 day trip to Bangkok or a 27 day trip to Las Vegas… only at this point can you change your dates)
Change the dates that you'd actually like to fly – one at a time. Then search again. It's very clunky.
Get your flight results. (Unfortunately, they usually aren't actually the best option. So much for that proprietary algorithm…)
If you like the results, click "Book Now"
Enter your passenger information, your tolerance to a price or point change, and your credit card info for payment of taxes & fees, including a $10 booking fee.
Schedule a booking call. (They are typically 2-3 days out)
RewardStock will conduct any points transfers needed.
RewardStock will book your trip within approximately 48 hours.
You will later have to finalize seat selections and trip details for yourself.
When you begin to search, you quickly realize that RewardStock does not support all locations. After looking at their frequently asked questions, I found that they only support 35 points of origin (only in the US) and 30 destinations worldwide. Quickly, the value of RewardStock is diminishing.
Here are the 35 RewardStock cities of origin. (If you don't live near one of these airports, RewardStock is of no value to you)
ABQ (Albuquerque, NM)
ANC (Anchorage, AK)
ATL (Atlanta, GA)
AUS (Austin, TX)
BNA (Nashville, TN)
BOS (Boston MA)
CHI (Chicago, IL – ORD, MDW)
CLE (Cleveland, OH)
CLT (Charlotte, NC)
CVG (Cincinnati, OH)
DEN (Denver, CO)
DFW (Dallas, TX)
DTW (Detroit, MI)
HNL (Honolulu, HI)
IAH (Houston, TX)
LAS (Las Vegas, NV)
LAX (Los Angeles, CA)
MCI (Kansas City, MO)
MCO (Orlando, FL)
MIA (Miami, FL)
MSP (Minneapolis, MN)
MSY (New Orleans, LA)
LGA, JFK, EWR (New York, NY)
OMA (Omaha, NE)
PDX (Portland, OR)
PHL (Philadelphia, PA)
PHX (Phoenix, AZ)
PIT (Pittsburgh, PA)
RDU (Raleigh, NC)
SAN (San Diego, CA)
SEA (Seattle, WA)
SFO, OAK (San Francisco, CA)
SLC (Salt Lake City, UT)
STL (St. Louis, MO)
DCA, IAD, BWI (Washington, DC)
That's quite a few large airports in the US that RewardStock covers. I'm happy with those locations to start a trip from. The problem though is their lack of destinations. There are only 30 destinations that RewardStock will book your vacation.
Here's the list of the 30 RewardStock destinations. (If these destinations aren't of interest to you, RewardStock is of no value)
AKL (Auckland, New Zealand)
AMS (Amsterdam, Netherlands)
BCN (Barcelona, Spain)
BKK (Bangkok, Thailand)
CHI (Chicago, IL – ORD, MDW)
CPT (Capetown, South Africa)
CUN (Cancun, Mexico)
DPS (Bali, Indonesia)
DUB (Dublin, Ireland)
DXB (Dubai, United Arab Emirates)
HKG (Hong Kong)
HNL (Honolulu, HI)
KEF (Iceland)
LAS (Las Vegas, NV)
LAX (Los Angeles, CA)
LON (London, England)
MAD (Madrid, Spain)
MBJ (Montego Bay, Jamaica)
MCO (Orlando, FL)
MLE (Maldives)
LGA, JFK, EWR (New York, NY)
PAR (Paris, France)
PPT (French Polynesia)
PUJ (Punta Cana, Dominican Republic)
ROM (Rome, Italy)
SEA (Seattle, WA)
SFO, OAK (San Francisco, CA)
SIN (Singapore)
SYD (Sydney, Australia)
TYO (Tokyo, Japan)
With only 30 destinations, RewardStock leaves a lot to be desired. I feel like the people who would use this service would want many more destination options.
How RewardStock Works in Reality
Initially, I have a few concerns about this process. First off, why can't I choose dates that I want to fly or even a range of times to fly within from the beginning? For some reason, you must wait until the search has completed before changing the departure date or return date. You also must do these changes one at a time, which is very clunky and sometimes doesn't even work.
The next concern is that booking is not immediate and is delayed by multiple days to conduct the booking call and for them to transfer points. Well, if you've booked flights with points before, you know that what's available now can be gone the next day or even the next hour. What happens if they transfer your points from your Ultimate Rewards account to your Southwest account and then the flight is no longer available?
The biggest concern I have with RewardStock is that their algorithm doesn't actually give search results with the best flight options. I did multiple searches for flights using only Southwest Rapid Rewards as my points. Here are the results compared to results directly from Southwest's own award search.
PDX-LGA Roundtrip for 2 passengers (May 21-27)
Search Results on RewardStock:

76k Rapid Rewards + $22.40 + 

$10 fee

 
PDX-LGA Roundtrip 
for 2 passengers 
(May 21-27)
Search Results on Southwest.com: 57.9k Rapid Rewards + $22.40 (24% Less points than RewardStock)
---
Obviously, RewardStock did not bring back results for the best flights possible using points. Let's try again…
PDX-LAS Roundtrip for 2 passengers 
(May 23-27)
Search Results on RewardStock:

58k Rapid Rewards + $22.40 + 

$10 fee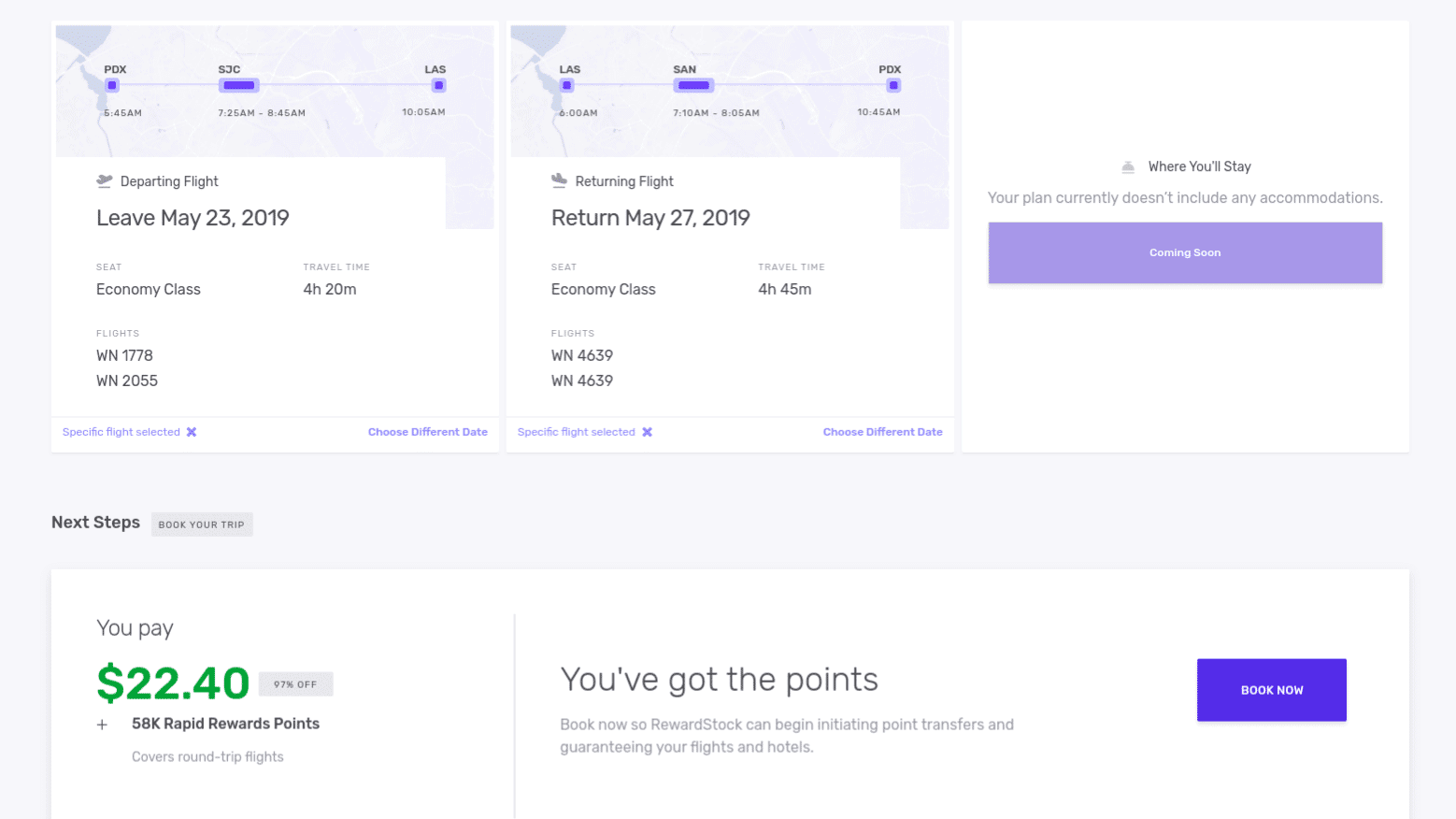 PDX-LAS Roundtrip for 2 passengers (May 23-27)
Search Results on Southwest.com: 33.3k Rapid Rewards + $22.40 (43% less points than RewardStock)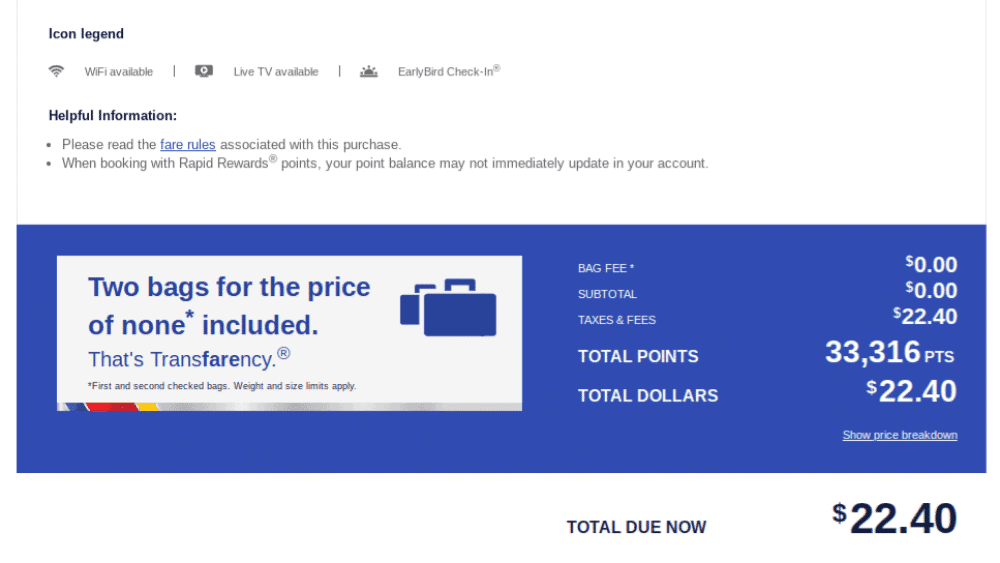 ---
Let's See Which Flights RewardStock Chose as the Best (Highlighted Green)
Now, I'm no proprietary algorithm, but those don't look like the best flight options to me. In both directions, there were available options that had fewer stops and were offered for far fewer points than the options that RewardStock chose as the "best".
After comparing these flights to Southwest directly, I have just one question for you. Would you really want the RewardStock algorithm choosing your flights for you?
Tracking Your Reward Points on RewardStock
RewardStock has an area in your account for tracking all of your loyalty points. You can add programs and then enter the number of points or miles you currently have. Everything in the points tracker must be input manually. Every time you use or earn points, you'll need to manually update the balances.
Another service called [earnist_link ref="award-wallet-referral" id="10792″]Award Wallet[/earnist_link] does this as well, but everything is automated. They pull the info from your real loyalty accounts to update your balances. Award Wallet also keeps track of expiration dates for your points and allows you to log in to your loyalty programs without having to remember all the passwords.
On RewardStocks point tracker you cannot add more than one account in each loyalty program. This means that if you have multiple accounts or want to add your spouse's loyalty account, you'll need to make another RewardStock account.
RewardStocks "Personalized" Credit Card Recommendations
(This is Hilarious…)
One of the main features of RewardStock is their personalized credit card recommendations. They say they will find the perfect credit card specifically for you, taking into effect your travel preferences, current reward portfolio, monthly credit card spending, and other factors.
They say this feature is what "sets RewardStock apart from other tools or travel hacking blogs is that we don't make blanket recommendations. We make personalized, credit card recommendations. Our proprietary algorithm determines the best credit card for you based on your unique portfolio." Their words, not mine. This is a pretty comical statement. You'll see why in a second.
What Does RewardStocks Credit Card Recommendation "Algorithm" Really Do?
I tested out their so-called "Personalized Credit Card Recommendation Algorithm that sets them apart". What did I find out?
No matter what your travel preferences, current reward portfolio, or monthly credit card spending look like, they recommend THE EXACT SAME CARDS FOR EVERYONE! How's that for setting themselves apart?!?
I tested out their credit card recommendation tool with different credit cards and awards in my account already and found that the results were the same every single time. Does that sound like it's personalized to you? It doesn't to me…
It Gets Even Better…
The RewardStock "algorithm" is actually just a simple list of credit cards that they recommend in order, leaving a card out if you already have it. Here's RewardStocks recommended credit card order, no matter what your specific travel needs are.
[earnist_link ref="chase-sapphire-preferred-card" id="6313″]Chase Sapphire Preferred[/earnist_link]
Starwood Preferred Guest Credit Card (personal) [earnist_link ref="spg-credit-card-from-american-express" id="6446″]Learn More >>[/earnist_link]
[earnist_link ref="british-airways-visa-signature" id="9202″]British Airways Visa Signature[/earnist_link]
Barclaycard Arrival Plus World Elite
American Express Gold Card [earnist_link ref="american-express-gold-card" id="9203″]Learn More >>[/earnist_link]
*Chase Ink Plus – Huh?!? WOW, this credit card hasn't existed since 2016 when it was discontinued! This alone, says a lot about RewardStock…
Alaska Airlines Visa Signature (personal)
CitiBusiness AAdvantage Platinum Select
Citi AAdvantage Executive World Elite
**Hilton HHonors Surpass Card – Yet, another discontinued credit card being recommended by RewardStock. Obviously, these aren't "personalized recommendations".
* FYI: The Chase Ink Plus was discontinued in 2016. Its replacement card in the Chase-branded credit cards line is the [earnist_link ref="ink-business-preferred-credit-card" id="6240″]Ink Business Preferred[/earnist_link], which we consider to have the best current signup bonus.
** FYI: The Hilton HHonors Surpass card was discontinued in 2018 and replaced by the Hilton Honors American Express Ascend card. [earnist_link ref="american-express-hilton-ascend" id="10816″]Learn More >>[/earnist_link]
I'll stop there as I've seen enough in the first ten cards. As I mentioned above, this is the list of cards that RewardStock recommends in order that they recommend them. It doesn't matter what your travel profile looks like, you'll get these exact same recommendations, in this exact same order from RewardStock. Nice work…
What is RewardBoost?
RewardBoost is a feature of RewardStock that you can activate in the "My Cards" tab. To activate RewardBoost, you must give them your personal, financial, and business information. According to RewardStock, after activation, they will find the perfect card for you each year. Supposedly, then they'll automatically apply for you after confirmation of your "perfect card" (seems legally unsound, but I'm no lawyer).
After seeing their recommended cards above I don't know that I would want to see my "perfect card" for this year. I'm going to call off investigating this feature a little prematurely, simply because I don't trust them with my financial information. They claim that your information is secure from their SSL encryption, but with all the data breaches at large companies lately, I doubt that's entirely true.
Want a Real Personalized Travel Credit Card Recommendation?
If you actually want a personalized travel credit card recommendation, you can check out our 100% free Credit Card Consultation. It's simple. Here's how it works. You answer a few quick questions about your travel preferences, your current credit cards, and whether you can apply for business cards or not. Then, we research the current travel credit card offers in the market and pair them up to your travel preferences to find the top 3 travel credit card options for you.
Our service is actually personalized as I do the research myself for each individual person. Did I mention that it's FREE?
Don't Want to Wait? Here are the Best Overall Travel Credit Card Offers
| Credit Card | | Introductory Offer | Annual Fee | Our Thoughts | |
| --- | --- | --- | --- | --- | --- |
| Chase Sapphire Preferred | [earnist_link ref="chase-sapphire-preferred-card" id="6313"] [/earnist_link] | 60,000 points | $95 | Best first travel credit card. | [earnist_link ref="chase-sapphire-preferred-card" id="6313"]LEARN HOW TO APPLY >>[/earnist_link] |
| Capital One Venture | | 75,000 miles | $95 | Great travel rewards credit card for simplicity. | [earnist_link ref="capital-one-venture-rewards-card" id="10881"]LEARN HOW TO APPLY >>[/earnist_link] |
| Chase Sapphire Reserve | [earnist_link ref="chase-sapphire-reserve-card" id="6311"] [/earnist_link] | 60,000 points | $550 | Best premium travel rewards credit card | [earnist_link ref="chase-sapphire-reserve-card" id="6311"]LEARN HOW TO APPLY >>[/earnist_link] |
| Amex Platinum | | 80,000 points | $695 | Best ultra luxury travel rewards credit card. | [earnist_link ref="the-platinum-card-from-american-express" id="6500"]LEARN HOW TO APPLY >>[/earnist_link] |
| Ink Business Preferred | [earnist_link ref="ink-business-preferred-credit-card" id="6240"] [/earnist_link] | 100,000 points | $95 | Best business travel rewards credit card. | [earnist_link ref="ink-business-preferred-credit-card" id="6240"]LEARN HOW TO APPLY >>[/earnist_link] |
What People are Saying that Have Tried Using RewardStock
From my own review of RewardStock, it's obvious that they aren't what they say they are. I give them credit that it's a good idea. I'd also love to see them make their algorithms work the way that they say they do.
If RewardStock could truly automate booking flights with award points getting the lowest fares, everyone involved in award travel, including myself, would use their service in a heartbeat. Paying $29 a year to be able to book any flights with points at the click of a button would be nothing short of amazing. I'm skeptical that RewardStock will ever be able to accomplish that, considering the variables of booking award flights.
Because I don't want to rely just on my own review of the RewardStock system, I searched the internet for other people who have attempted to use RewardStock. Here's what they had to say.
"I tried the site the same evening the episode aired and quickly realized that it didn't come close to properly utilizing miles nor calculating pricing. There is so much potential for a site like this, but they need folks like me on board."

-@MrMAGATron (twitter)

"I was a beta user for RewardStock but haven't really used it in the past year. I personally was never able to find the award space they claimed to have."

-Amy

"I signed up and paid the $29. It was a big waste. You cannot pick specific dates of travel – only months. You cannot pick the time of trip – you have to go with the dates they provide. It will not provide the flight numbers to verify. It does not provide the hotel options. Its a massive push towards affiliate credit card offers. I emailed – no response. I had to set an appointment in their automated system for 2 weeks out before I can speak with someone. I'll be canceling and disputing the charges. Nothing about what they said they provide is accurate."

-Michael

"I paid the $29, entered my points, linked my accounts, etc. I was horrified when I got a pop-up asking me to accept their ability to link to my Gmail account. It said by accepting, I agreed to allow them to read, compose and delete my emails. I'm not sure it was really their site or if somehow I was redirected to another fake site, so be aware and cautious.

I could not link my Sapphire Reserve account and only one of my Alaska Miles accounts, fair enough, the other is my wife's. She would require her own account. All other accounts linked ok. My Hilton Honors card is the only one that actually updated. While trying to book a trip to Kona, it could not find the airport (KOA). I decided to book a fake trip to see what it would cost. I did MUCH, MUCH better on my own.

Airfare to the Maldives cost me $34 plus 554,000 points one way, one flier. I was able to book 2 round trip for 165,000 points on my own. I'm a Point junky. I have over 4 million various points that I'm hoarding for retirement. I have a spreadsheet to help me track everything. That said, it was very easy for me to save way more than RewardStock could. I plan on calling AmEx in the morning to have them stop payment and I'll cancel my account. Maybe Mark Cuban can invest in making the site work as intended."

-Jim C

"It's a shame that they don't seem to offer any sort of free trial period either."

-William C
After looking around at different sources, it was clear that RewardStock customers aren't very happy with the service. RewardStock clearly has a lot of room for improvement.
Free Alternatives to RewardStock that Actually Work Better
Award Points Flight Search: AwardHacker
Find out how many points are needed from each airline to fly certain routes
See where you can transfer points from to get the points needed for a flight
Compatible for ANY routes
100% Free
Award Point Tracking: [earnist_link ref="award-wallet-referral" id="10792″]Award Wallet[/earnist_link]
Track unlimited award point accounts
Includes all programs: credit card points, airlines, hotels, others
Award points expiration notifications so you don't lose any points
Tracks travel vouchers and upgrades
Updates point balances automatically
Auto-login feature for your award accounts
Free (option to upgrade to paid account for $30/year for extra features)
Personalized Travel Credit Card Recommendations: Travel Freedom
Free travel credit card consultation
Personalized to each traveler's needs
Get the top 3 travel credit card recommendations within a day or two
As you can see, there are free alternatives to each feature that RewardStock offers. These free services are actually much better than RewardStock, in my opinion. Plus, there's no fee to use them which is always nice.
Decision Time: Was Mark Cuban's Investment a Good One?
I can't say that it was. At this point, all signs lead to this investment being a waste of Mark Cuban's money. If RewardStock doesn't improve their service tremendously over the next year, I would imagine they will have an extremely high churn rate. Meaning that no one will re-up on their subscription to RewardStocks service.
They would likely already be seeing this type of behavior if they gave refunds to unhappy customers. Most good services I've ever used offer at least a one-month money-back guarantee, but here are RewardStocks terms:
"Note that membership fees are non-refundable, but you will not be billed in the future after you cancel."
What surprises me the most about Mark Cuban investing, is that RewardStock also received an investment of $350,000 during their seed funding in 2015 (according to Crunchbase.com). They don't seem to have done much with that original $350,000 considering barely anything they offer works well.
While on Shark Tank, the CEO, Jon, said that the money would be for the development of RewardStock by programmers, so maybe they will be able to improve it drastically. We'll have to wait and see…
In the future, I hope to retest RewardStock in the hopes that it's improved and will be something very useful. In the meantime, I'll still be booking my flights manually.