One of my family's favorite things to do is travel together. We love learning about the world, eating new food and experiencing new cultures. We have a goal of visiting every continent as a family. If budget and work weren't holding us back, we would probably be in a new country every month! As a parent, it is so important to me that my children experience the world beyond their own home and community. I want them to engage with people who are different than them. We also want them to try new food, new music and new ways of life. I firmly believe that a true appreciation for other cultures and people can only happen through experiences. [earnist_link ref="little-passports-subscription" id="11065″]Little Passports[/earnist_link] is a great way to launch this type of learning for your kids.
Despite wishing we could always be jet-setting around the world, school, work, and our bank accounts mean that we can't always be on vacation (travel credit card points can help with some of that!). Even at home, it's important to me that my children continue to learn about all of the people and cultures that make this world beautiful. I was so excited to learn about the Little Passports subscription because it does just that! Little Passports is a subscription box for children that focuses on geography and culture. It's quickly become a favorite activity in our house. Our kids can hardly wait to tear open the box when it arrives each month!
What is Little Passports?
[earnist_link ref="little-passports-subscription" id="11065″]Little Passports[/earnist_link] is a monthly subscription that helps children learn about the world around them. Little Passports has four different age-level subscriptions available:
Early Explorers
World Edition
USA Edition
Science Expeditions
[earnist ref="little-passports-subscription" id="11065″]
Little Passports Early Explorers (Ages 3-5)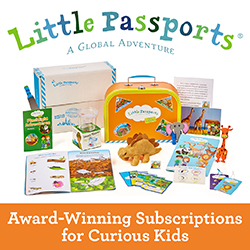 The Early Explorers program is designed for children ages 3 through 5. This subscription has monthly themes like music, dinosaurs, food, art, and oceans. The first month's package includes an orange cardboard suitcase with a wall-sized world map, a luggage tag, some fun stickers, photos, activity booklets, and a welcome letter. The welcome letter is written in pen pal style from the Little Passports characters Max, Mia, and Toby.
For the next 11 months of the subscription, Little Passports sends toys, souvenirs, activity booklets, trading cards, letters, and photos. There are also fun stickers to put on your map, passport, and suitcase.
One of the best parts is that each kit is developed with input from a panel of parents and educators that work with preschoolers. Young children also test kits to make sure everything included is durable and fun. As a parent, I love knowing that so much thought goes into each kit! It helps me to feel comfortable that my money is well spent and that my children will be excited about their Little Passports package.
Little Passports World Edition (Ages 6-10)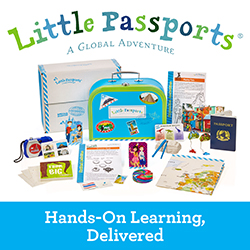 The World Edition was the company's original subscription box. It is still the most popular kit from Little Passports as well. The World Edition is designed for children ages 6 to 10. This is my favorite kit that Little Passports offers. Each month, my children receive a fun, and interactive kit from a different country each month. Every World Edition box includes toys, souvenirs, collectible country coins, activity sheets, photos and letters from Sam and Sofia, the Little Passports pen pals. My kids really love all of the online extras too. They include photo galleries with real images from that month's countries, interesting facts, and fun games.
The first month's kit from Little Passports includes a blue cardboard suitcase, a replica of a passport, a wall-sized world map, a coin board to hold each month's collectible coins, three animal squishies, stickers, photos, activity sheets, and a welcome letter. Even my teens are excited for each month's kit because they love the squishies! They now have quite the extensive squishy collection, which is certainly a hit with their friends as well.
When my family started our Little Passports subscription, there were about a dozen or so countries. Now Little Passports has expanded to 33 countries, including the following newcomers:
Brazil
Japan
South Africa
Mexico
Antarctica
Iceland
Poland
Turkey
Israel
Costa Rica
Vietnam
Madagascar
South Korea
Little Passports continually adds to their list of countries too, ensuring that my family can continue to enjoy our subscription for years to come.
Little Passports USA Edition (Ages 7-12)
The USA Edition is designed for tweens age 7 through 12. Each month, the Little Passports package focuses on two states. The packages include a 32-page state journal with new activities on nearly every page, postcards, and stickers. Like the Little Passports Early Explorer and Little Passports World Edition, the USA Edition also has online activities and information.
The introductory kit for the first month of the USA Edition subscription has a USA field guide, a scratch book, a wall-sized USA map, a photo scavenger hunt project and a welcome letter from pen pals Sam and Sofia.
This subscription is a bit more finite than are the other two. The total possible subscription length is 26 months: the first month's introductory kit and then 25 months of two states each.
Little Passports Science Expeditions (Ages 9+)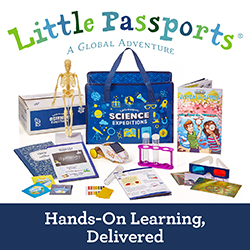 Branching off from the three geography kits, the Science Expeditions is one of the company's newest kits, designed for children ages 9 and up. In this STEM-based kit, children solve real mysteries using science.
The first month's Science Expeditions package comes with a tote bag, a science lab notebook, an forensic science experiment kit, an activity booklet, and a fingerprint analysis card with an ink pad. Starting in month two, the packages come with a 16-page comic book with bonus activities. The comic book also has a glossary to help explain all of the new science vocabulary words for that month. The package also has hands-on science experiments, a new mystery to solve and achievement badges. In addition, like the previous three Little Passports subscriptions, Science Expeditions includes online videos and new content.
How Much Does Little Passports Cost?
The Little Passports prices vary depending on the subscription ordered. Early Explorers costs $18.95 per month, excluding shipping. For a six-month subscription, it costs $107.70 plus shipping. The six-month plan averages $17.95 per month. The full-year plan is the best value at $203.40 per year plus shipping. This makes each kit only $16.95 per month.
The World Edition subscription is $16.95 per month plus shipping. A six-month subscription is $95.70, which averages $15.95 per month. The full-year plan is a one-time payment of $179.40, which makes this subscription only $14.95 a month.
The USA Edition is $14.95 per month plus shipping for a month-by-month subscription. A six-month subscription is $83.70 plus shipping. This averages about $13.95 per month. A full-year subscription is $155.40 plus shipping. The 12-month subscription averages $12.95 per month.
The Science Expeditions is a bit more expensive than the geography-based kits. The monthly subscription price for this plan is $21.95 per month plus shipping. A six-month subscription is $125.70 plus shipping. This averages about $20.95 per month. The annual subscription is $227.40 plus shipping, making the monthly cost $18.95 plus shipping.
What We Love about Little Passports
We are avid travelers in my family so our Little Passports subscription is the perfect way to keep my children engaged throughout the year, especially when we can't hop a plane to someplace new. All of the information, activities, and games in each month's kit makes my children want to visit each new location though!
Little Passports Characters
Because the Sam and Sofia characters are tweens, the stories of each country are written from the perspective of a tween. This makes the characters relatable to my children and helps engage them. They spend all day listening to and learning from the perspectives of adults, so they enjoy learning from the perspective of a peer their own age.
One of our favorite places we have visited is Vietnam. The country holds a special place in our hearts and is a place we dream about visiting again. Recently, our Little Passports package was the Vietnam kit, and we couldn't wait to dig in! We loved Sam and Sofia's letter from Vietnam and enjoyed learning more about beautiful Ha Long Bay and about Bat Trang, a traditional pottery village in northern Vietnam. Sam and Sofia even described a water puppet show, which was one of our favorite things about visiting Hanoi!
Little Passports Traveler Kits
The luggage tag in our Little Passports kit had a darling picture of Sam and Sofia dressed in Ao Dai, Vietnam's traditional dress. Our package also included a colorful sticker of Ha Long Bay for our suitcase, a Vietnam flag sticker for our passport and a blue pushpin sticker for our map. The picture of Thien Mu Pagoda was gorgeous! My kids learned from our kit that it was built in 1601 and is the tallest pagoda in Vietnam. There was also information about the floating markets in the Mekong Delta, instructions on how to make an origami pagoda and a beautiful bamboo flute that really worked. The flute was my youngest's favorite part of the Little Passports package! I was impressed about how nice the flute sounded since it was a piece of hollowed out bamboo.
Little Passports Online Activities
My older children also enjoyed the online activities in the Little Passports Boarding Zone. The access code is provided on the Little Passports boarding pass. Once the code is entered, you can access several games, some beautiful photos and some interesting facts about Vietnam. I was surfing the Boarding Zone with my kids and even I learned several new things.
I also love that everyone in my family can enjoy the Little Passports subscription. My youngest children may not understand all of the details about each country that my older children can, but together, we all learn and play. We enjoy spending time as a family reading about the adventures of Sam and Sofia (and dreaming about our own future adventures!) and the authentic souvenirs bring hands-on learning opportunities to everyone in our family. It's also fun to watch my older children help teach the younger ones how to do the various activities in our package.
What Could Be Improved about Little Passports
Honestly, there isn't much I can think to improve about the Little Passports subscription. The items in our package seemed well thought-out and my children were very engaged in all of the materials. They look forward to their new Little Passports package every month and have continued to develop a love and appreciation for cultures around the world.
I think my only suggestion is that on the pictures, Sam and Sofia are pretty obviously drawn characters against a background of an actual photo. My children would love the photos more if Sam and Sofia looked a bit more realistic and a bit less like cartoon characters, but that certainly doesn't make or break the kit for us. I think that as children get more towards the upper age range for the Little Passports World Explorer set, they would connect more with characters that were less cartoon-like.
Our Final Verdict
The [earnist_link ref="little-passports-subscription" id="11065″]Little Passports subscription[/earnist_link] is definitely appreciated and loved in my family. It is something that both my children and I can use together. I enjoy learning new things about each country along with my children and we enjoy playing the games together.
We love to expand on what we learned each month by researching a favorite meal if one isn't mentioned in our World Explorer package for that month. Once we find a meal we're interested in making, we buy all of the ingredients and spend an afternoon cooking a dinner of foods that represent the country we learned about.
This subscription box certainly hits the spot for a family that has a constant itch to travel but may not always be able to do so. It is also something that might be good for families who aren't able to travel much but would like to give their children hands-on and authentic experiences from cultures around the globe.
I definitely thought our [earnist_link ref="little-passports-subscription" id="11065″]Little Passports[/earnist_link] subscription helped my children to have a better understanding of geography and cultures around the world. It also helped them to develop an appreciation for how people live around the world, which is something I feel is important for all children to learn.